Reflective Area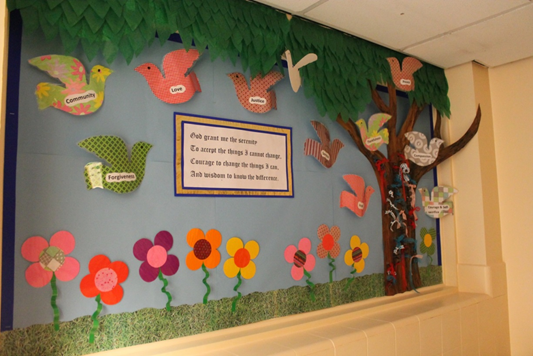 At Christ Church, worship is an ideal vehicle for spiritual growth, but by no means the only one. All classes in school have reflective areas where they can be quiet and think; a place to go for someone who needs some 'time-out'; to be creative or read; to repair a 'fall-out' with a friend or simply 'to be.'

As well as the classrooms, we now offer a larger reflective area which can accommodate a couple, or small groups, of children.

Children use the area to think about their own feelings, their relationships with others and especially their place in God's world. This may also be used a place of conflict resolution; a comfortable space where conflicts can be resolved and where children can begin to learn to sort out their own problems.
Many children mark their prayer by tying a ribbon around the prayer tree. Every Friday, Reverend David collects the ribbons and places them on the alter in Church during the Sunday service and offers them to God.