Church Sundays
Following the easing of restrictions, we are pleased to inform you that we are already making plans for our first Church Sunday for 2021. We are so excited at the prospect of us all coming together again!
At Christ Church CE Academy we value our links with Christ Church Woodhouse and our local community. 'Church Sundays', alongside 'Christ Church Community Afternoons', provide the opportunity for pupils, our church community and our local community to come together for collective worship.
Once a term pupils from our school lead collective worship in Church.
Over the years our older children in Years 5 and 6 have shared their work and poems produced in class looking at fruit farming in the Caribbean.

Accompanied by our school choir, this was followed by a Caribbean buffet lunch prepared and served by our ladies and gentleman of the Church community.

Visit: http://www.westyorkshiredales.anglican.org/?q=content/forging-links-huddersfield to find out how our work is being recognised by the Diocese of Leeds.
| | |
| --- | --- |
| Our Christmas Carol Service in Church is always a wonderful way to end the Autumn Term; the Church is usually full to capacity with children, staff, choir, parents, carers, school Governors and members of the Church community. As always, the children are absolutely amazing and never fail to impress everybody with their super behaviour, enthusiasm and wonderful singing … the choir certainly do make the hairs on the back of your neck stand up when you listen to them. | |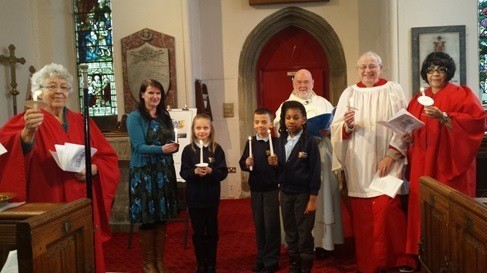 We are regular visitors to Church on 'Education Sunday' and The Presentation of Christ in the Temple (Candlemas). Our Head Teacher, Mrs Lisa Walton-Thorpe, presented her thoughts and feelings about what it means to lead in a Church school, accompanied by Year 4 pupils reading a selection of hymns and prayers.

Click below to read Mrs Lisa Walton-Thorpe's address to the congregation:

Our younger pupils, in Years 1 and 2, from Forest School have also led collective worship. Taking part in a range of activities relating to the four elements (earth, wind, fire and water), they spent time outdoors in the Church grounds admiring the awe and wonder of the God's beautiful world. Bishop Jonathan (the Bishop of Huddersfield) joined in with the activities. As always, the service was followed by a community 'get together' over a Caribbean buffet lunch!
Look out for the note home informing you of our next Church Sunday