Latest Update: COVID-19
Government advice is very clear: the single most important action we can all take, in fighting coronavirus, is to stay at home in order to protect the NHS and save lives.
When we reduce our day-to-day contact with other people, we will reduce the spread of the infection. That is why the Government has introduced three new measures.
Requiring people to stay at home, except for very limited purposes.

Closing non-essential shops and community spaces.

Stopping all gatherings of more than two people in public.
Every citizen must comply with these new measures. The relevant authorities, including the police, will be given the powers to enforce them – including through fines and dispersing gatherings.
These measures came into effect on Monday 23 March. The Government will look again at these measures after three weeks, and relax them if the evidence shows this is possible.
Staying at home
You should only leave the house for one of four reasons:
shopping for basic necessities, for example food and medicine, which must be as infrequent as possible.

one form of exercise a day, for example a run, walk, or cycle - alone or with members of your household.

any medical need, or to provide care or to help a vulnerable person.

travelling to and from work, but only where this absolutely cannot be done from home.
These four reasons are exceptions - even when doing these activities, you should be minimising time spent outside of the home and ensuring you are 2 metres apart from anyone outside of your household.
These measures must be followed by everyone. Separate advice is available for individuals or households who are isolating, and for the most vulnerable who need to be shielded. Where parents do not live in the same household, children under 18 can be moved between their parents' homes.
The Government has also identified a number of critical workers whose children can still go to school or their childcare provider. This critical worker definition does not affect whether or not you can travel to work - if you are not a critical worker, you may still travel to work provided you cannot work from home.
Critical workers and parents of vulnerable children may leave the house to take children to and from school or their childcare provider.
School closure from Monday 23rd March - until further notice
No doubt you will have just read the most recent guidelines and advice from the Government regarding reduced provision in school. Guidance is changing rapidly.
As a country, we all need to do what we can to reduce the spread of the COVID-19 virus. That is why the government has given clear guidance on self-isolation, household isolation and social distancing. The most recent scientific advice on how to further limit the spread of COVID-19 is clear. If children can stay safely at home, they should, to limit the chance of the virus spreading.
That is why the government has asked parents to keep their children at home, wherever possible, and asked schools to remain open only for those children who absolutely need to attend.
The team at Christ Church have been fantastic and will do their duty, but like you have children of their own placed in critical worker provision.
I am thankful to parents and carers for their patience during this difficult time and their conduct; many have understood the severity of the situation and not taken advantage of the critical worker guidelines, even apologetic and only asking for certain days or hours depending on shift patterns.
So, please seriously consider your requests for child care and in determining whether your role is critical in the response to COVID-19. Where provision is not needed due to shift patterns or days when your child(ren) can be at home and safely looked after then please do this. This means I can reduce staffing levels in school; the less staff and the less children we have in school at any one time will lower the risk.
If you are a critical worker then we are here to help. However, if you are a critical worker and there is a safer option for your child, which aligns with household isolation and social distancing guidelines, then please use it.
The objective of school closure is to reduce the spread of the COVID-19 virus. The objective of school opening for child care provision is to allow critical key workers to carry out their roles and combat the spread of this virus. Our provision is a last resort for those parents and carers that have absolutely no other choice.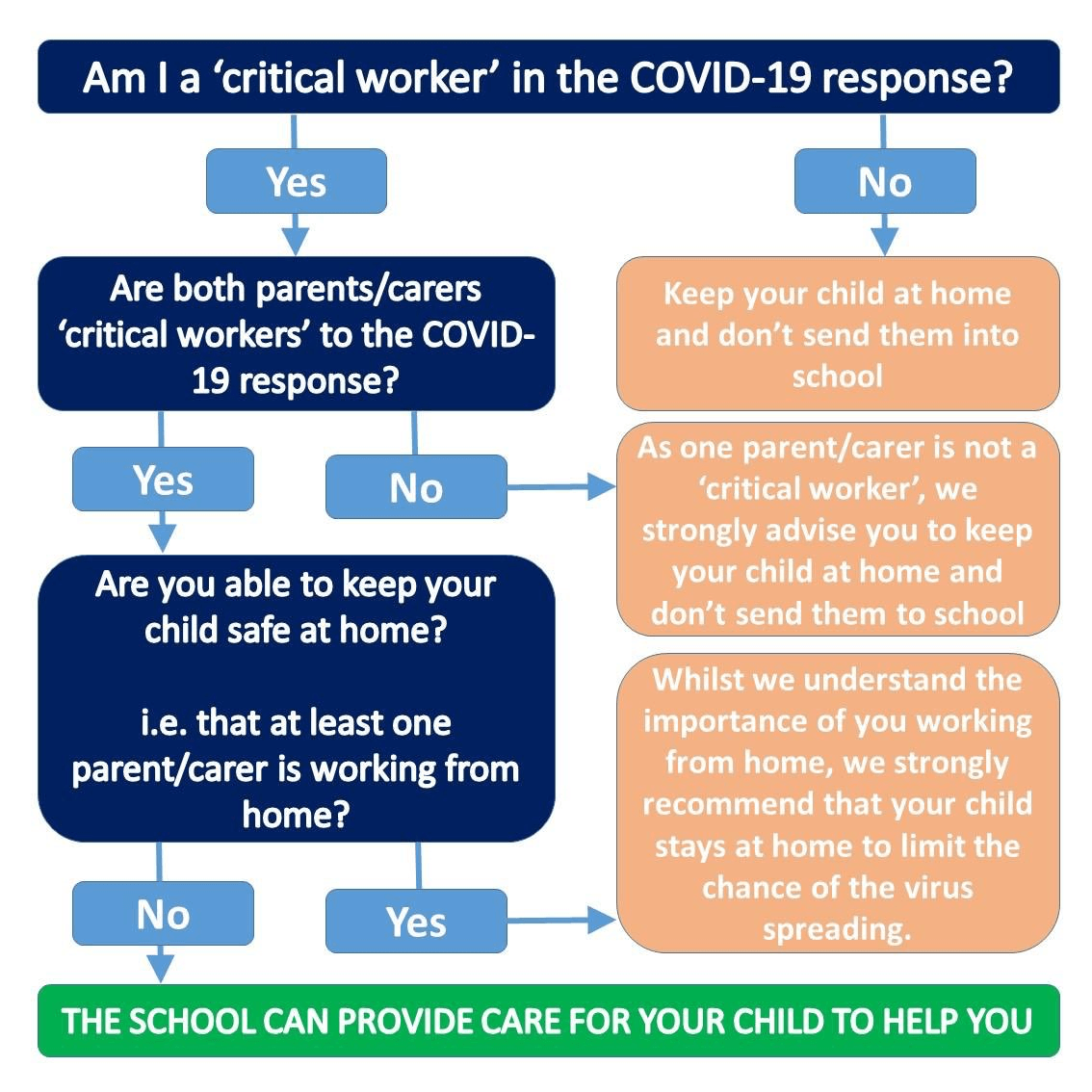 .